Achieving your objectives
For a truly dynamic and impactful exhibition presence, custom built stands are generally the best solution.
And as a specialist in exhibition stand design, Newshield develop stand concepts that achieve a specific purpose, while remaining visually attractive.
With a team of specialist designers, builders and installers allocated at our 4,000 square feet HQ, we understand what makes a successful show. And we apply over 25 years of experience to ensuring your custom built stand meets your show objectives with regard to footfall, lead generation, brand recognition and ROI.
The custom stand process:
Initial collaborative client briefing and design sketches to meet branding needs, stand requirements and practical restraints

2D and 3D renditions of design proposals to ensure comprehensive ongoing client communication and visualisation

Continued approachability and flexilibilty to address potential client design adjustments

On-time and on-budget build and installation, with client hand over before show opening

Efficient and timely stand pull down, transportation and storage if required.

Post-show evaluation and reporting procedure to ensure full client satisfaction
Exhibition design to meet your requirements
A custom built stand offers the opportunity to bring creative structures, stunning displays, integrated audio-visual systems and contemporary furniture to your brand.
All our custom exhibition stands are constructed at our Horsham HQ, and installed by our specialist team, so you can rely upon our thorough plannning, quality finish, and unbeatable service.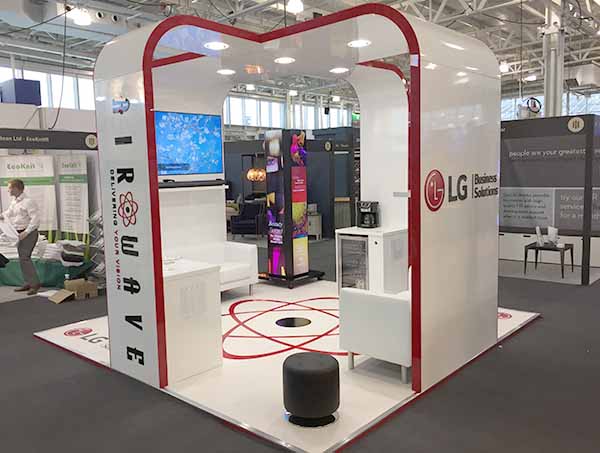 The stand was a great success with loads and loads of positive comments! It was such a relief that we could rely on you guys to take care of everything stand-related while we got on with what we needed to do.
WE'LL SHOW YOU… call 01306 627087 to see how we can bring ideas, creativity and our professionalism to making your exhibition a success.